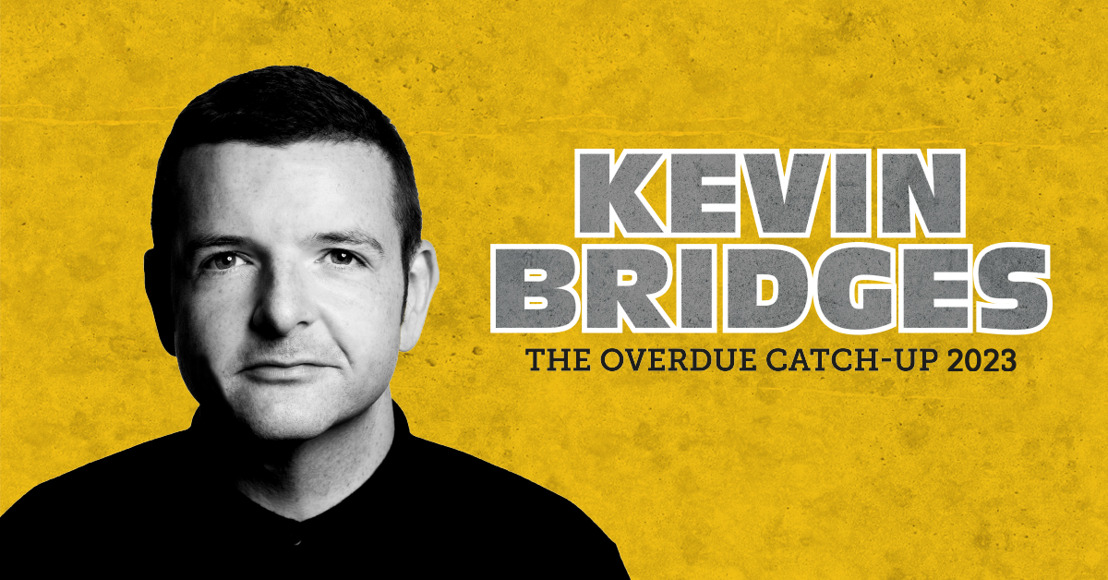 Kevin Bridges brings new comedy show to Antwerp on 23 October 2023
The Overdue Catch-Up at Koningin Elisabethzaal
After a successful run in 2015 and 2019, Scottish comedian Kevin Bridges returns to Belgium. On 23 October 2023, he will bring his new comedy show 'The Overdue Catch-Up' to the Koningin Elisabethzaal in Antwerp. Tickets go on sale Wednesday 6 September at 10 AM via LiveComedy.be.
The Overdue Catch-Up welcomes audiences into the mind of one of the sharpest comedy talents the UK has to offer. With a career spanning an incredible 18 years, Kevin Bridges already has the life experience of a man twice his age, helping him to hit the nail on the head with his shrewd outlook on the modern world.
Kevin says: "Since we last spoke, a lot has changed in my life and – as we know – in this world of ours, but what hasn't changed is the fact that a crowd of people in a room together having a laugh usually makes for a fairly pleasant evening. I'm excited to be back out doing stand-up again and I'm looking forward to seeing you all – and some new people too. Simple as that. I'll see you up there, down there, over there, anywhere, and wherever. Enjoy yer night".
Kevin Bridges is one of the most well-known comedians from Scotland. He appeared on popular television programs such as 'Would I Lie to You,' 'Have I Got News For You,' and 'Live At The Apollo.' He also hosted the highly acclaimed documentary series 'Kevin Bridges – What's The Story,' which covered topics like the Commonwealth Games and the Scottish referendum.
In October 2014, his autobiography 'We Need To Talk About… Kevin Bridges' was published. The book was crowned a 'Sunday Times Best Seller.' His previous tours were consistently highly successful and set new records in ticket sales. It has been four years since Kevin Bridges last visited our country.
​
​Kevin Bridges will take the stage on 23 October 2023 at the Koningin Elisabethzaal in Antwerp with his new comedy show 'The Overdue Catch-Up.' Ticket sales begin on Wednesday 6 September 10 AM via LiveComedy.be.
*****
FOR PRESS ONLY, NOT FOR PUBLICATION:
For more information and interview requests, please contact Kelly Deceuninck at ​ [email protected].
*****