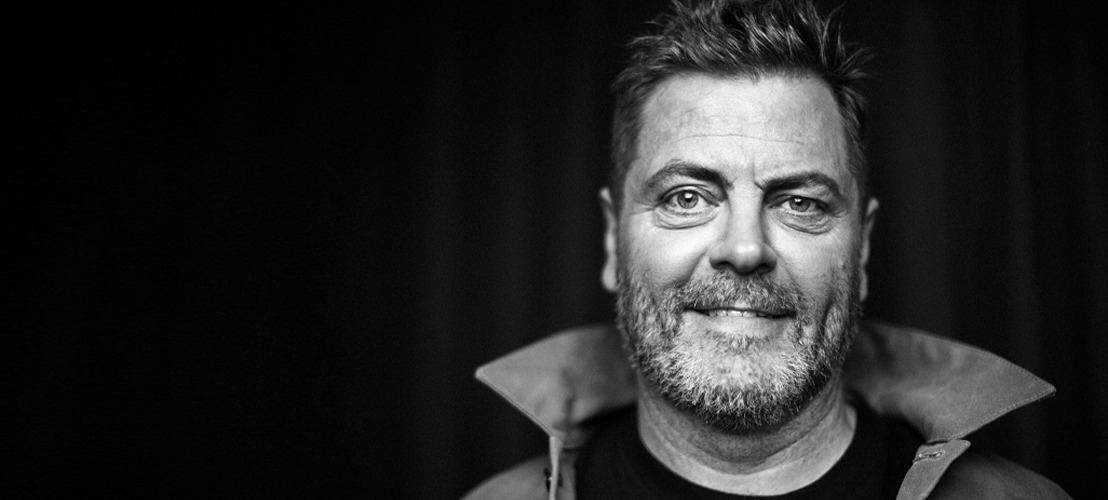 Nick Offerman is performing in Antwerp May 3rd
Parks and Recreation's Ron Swanson on new stand-up tour
Nick Offerman, star of Parks and Recreation and Fargo, is currently touring his new stand-up routine All Rise. The American actor and writer has just announced new European dates, which will bring him to Antwerp on May 3rd. Tickets to his show at Arenberg go on sale this Valentine's day, Friday February 14, at 10 AM through LiveComedy.be. For more information and press requests, please contact Bert through +32499410984 or [email protected].
All Rise is the title of the third stand-up tour by comedy actor Nick Offerman. He describes his newest show as "an evening of deliberative talking and light dance that will compel you to chuckle whilst enjoining you to brandish a better side of humanity than the one to which we have grown accustomed." Nick Offerman's style consists of a combo between sharp but always witty comments on today's society and a number of humorous songs. He has been touring in the USA for several months, and has now announced a five date tour of Europe. Antwerp is one of the few cities that will be hosting Offerman's show, on May 3rd at Arenberg.
"My aim in this undertaking is to encourage my fellow Homo Sapiens to aim higher in life than the channels of consumerism would have us imagine," said Offerman. "It's a proper revival suggesting the existence of a higher power in the land than commerce, one that will cause you to pop, lock and rejoice! Come on down and hear the good news that will make you go jingle-jangle in your juice box"
Nick Offerman is best known for portraying Ron Swanson in the NBC sitcom Parks and Recreation. The American political satire ran for seven seasons (2009-2015). The legendary character Ron Swanson was the director of the Parks and Recreation department in a fictional town in Indiana. Swanson is deadpan and distant, and believes that the government should not run the parks, thus advocating that his departement should not even exist. Offerman received critical acclaim and multiple award nominations for his portrayal of the cult character.
Nick Offerman is also known for his role as Karl Weathers in the acclaimed FX series Fargo, and as the co-host and executive producer of NBC's Making It. He will be featured in Devs, the FX limited series from writer-director Alex Garland. Recent film credits include Hearts Beat Loud, Lucy In The Sky, The Founder, Bad Times at the El Royale, The Hero, The Lego Movie (1&2), White Fang, and The Little Hours. Offerman has penned four New York Times Bestselling books, Paddle Your Own Canoe, Gumption, Good Clean Fun, and most recently The Greatest Love Story Ever Told, written with his wife, Megan Mullally. In his spare time, he can be found at his woodshop in Los Angeles building hand- crafted items ranging from fine furniture to canoes and ukuleles.
Tickets for Nick Offerman - All Rise go on sale this Friday, Friday 14, at 10 AM through LiveComedy.be.