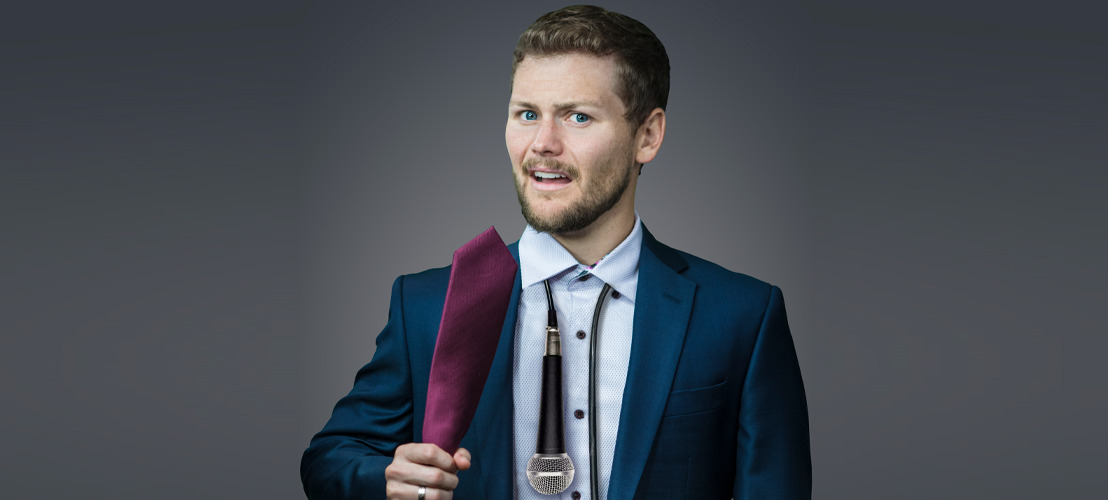 Stuttering comedian Drew Lynch for the first time in Belgium
America's Got Talent star performing in Mechelen on September 24, 2020
American stand-up comedian Drew Lynch is coming to Belgium. Famous for his stutter, the 28 year old performer embarks on his aptly named 'Speech Therapy Tour'. Lynch captured the attention of America when he appeared on America's Got Talent, received the Golden Buzzer from Canadian comedian Howie Mandel and finished in second place. On September 24, Drew Lynch is performing at Stadsschouwburg Mechelen. Tickets are available starting this Friday at 10AM through LiveComedy.be. For more information and press requests, please contact Bert through [email protected] or +32499410984.
Drew Lynch was born in Indianapolis, grew up in Las Vegas, and currently lives in Los Angeles. When he was 20, he suffered a sports injury while playing softball. A ball struck him in the throat, he then fell over and hit his head, causing a concussion. He went to sleep with the concussion, which caused his stutter.
With support from friends, he started building his career in stand-up comedy. On season 10 of America's Got Talent (2015), Drew amazed the audience and the jury with his hilarious performance, which got him the Golden Buzzer. The message Drew brought was that anything negative can be turned into a positive. He eventually finished second in the finale.
Since becoming the runner-up in AGT four years ago, Drew Lynch has appeared on talkshow CONAN. Lynch has a YouTube channel with more than 2 million subscribers and more than 140 million views. Apart from sharing clips from his performances, he also talks to viewers in his so-called Dog Vlogs, and he has created an animation series in which his alter ego Andy talks to therapy dog Stella.
Next year, Drew Lynch is performing in Belgium for the first time. He is taking his 'Speech Therapy Tour' to Stadsschouwburg Mechelen on September 24. Tickets are available this Friday, December 20, at 10AM through LiveComedy.be.