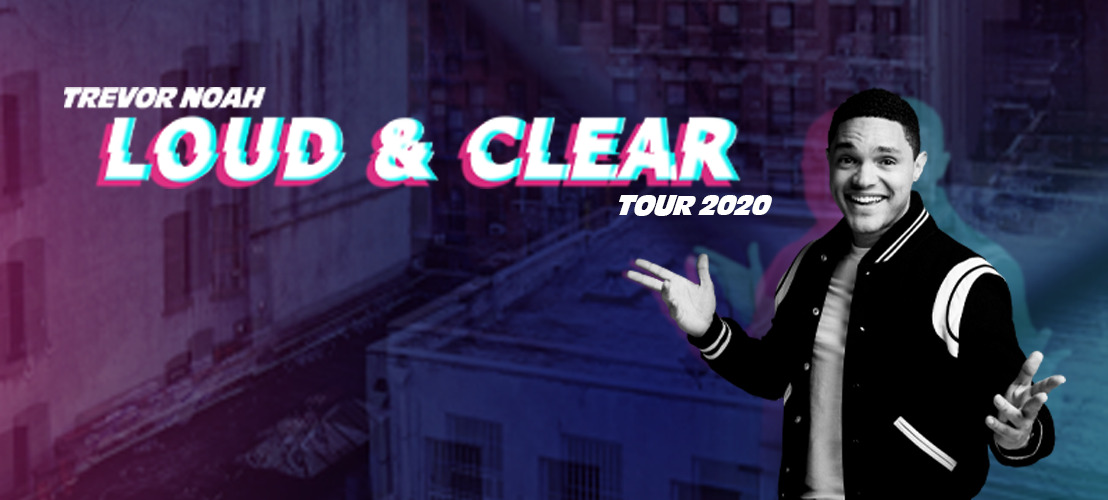 Trevor Noah announces show in Belgium on April 5th 2020
'Loud & Clear' tour to stop over at Forest National in Brussels
Monday, November 4, 2019 — Award-winning comedian Trevor Noah returns to Belgium with his brand-new show 'Loud & Clear'. The most successful comedian in Africa, and host of the Emmy award-winning The Daily Show, has sold out shows over five continents and has written, produced and starred in eight comedy specials. Trevor Noah is performing at Forest National in Brussels on April 5th. Tickets go on sale Friday November 8, 10 AM at LiveComedy.be. More info and press requests, contact Bert through [email protected] or +32499410984.
Trevor Noah is one of the most successful comedians in Africa and one of the hardest working comedians in general. In between taping The Daily Show, he travels the world to perform his new stand-up show 'Loud & Clear' in arenas. The celebrated comedian is known around the world for his insightful and authentic take on politics and current events. Trevor has written, produced, and starred in 8 comedy specials, most recently including "Son of Patricia" on Netflix. After selling out Stadsschouwburg Antwerp in 2016 and Lotto Arena in 2018, he is taking on Forest National on April 5, 2020.
Last year, The Daily Show won a GLAAD award for Outstanding Talk Episode, and received nominations for a Writers Guild Award (Comedy/Variety Series) as well as two NAACP Image Awards, for Outstanding Talk Series and Outstanding Host in a Talk or News/Information Show. Noah also won Best Host at the 2017 MTV Movie & TV Awards, as well as a 2017 Creative Arts Emmy Award for Outstanding Short Form Variety Series for his hosting role on The Daily Show – Between The Scenes.
Born in South Africa to a black South African mother and a white European father, Noah has hosted numerous television shows including South Africa's music, television and film awards. In April 2018, Noah launched The Trevor Noah Foundation, a youth development initiative that enhances youth preparedness for higher education or entry into the workforce. Noah's vision is a South Africa that advances because each generation builds and must grow beyond its predecessor. Through a partnership with Microsoft, the foundation is able to provide under-resourced schools with the opportunity to use technology as a tool to enhance the learning experience, as well as increase digital literacy beyond the classroom.
Tickets for Trevor Noah's 'Loud & Clear' tour in Brussels go on sale November 8th 10 AM, through LiveComedy.be.