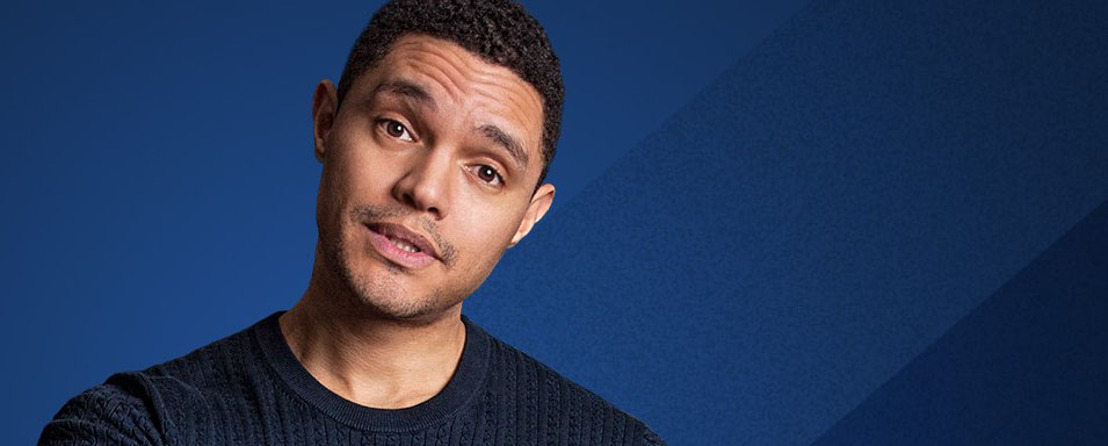 Trevor Noah back in Belgium
on the 28th of September at Lotto Arena Antwerp
Monday, March 12, 2018 — Trevor Noah is undoubtedly one of the most successful comedians in Africa and far beyond. The multiple award-winning (Emmy, PeaBody, Writers Guild, MTV Movie & TV Awards), current face of 'The Daily Show' started his career in hosting with 'Tonight with Trevor Noah' and later as a contributor for the 'Daily' format with Jon Stewart (2014). Just a mere month later, he became Stewart's successor and he has set a high standard for talk shows around the world ever since. And this just in: your favourite satirical news anchor is heading on a live stand-up tour across the globe! He'll pay us a visit on the 28th of September in Lotto Arena Antwerp. Ticketsales start Wednesday the 14th of March at 9:00AM.
Noah actually initially earned his stripes with an impressive stand-up career. He has made specials for all the major comedy channels, from Comedy Central in 2016 (Lost in Translation) to Netflix in 2017 (Afraid of the Dark) and Showtime back in 2013 (African American). In David Paul Meyer's award-winning documentary 'You Laugh But It's True' his remarkable career in post-apartheid South Africa was finally put in the spotlight properly. Trevor was also nominated twice for 'Personality of the Year' at the MTV Africa Music Awards and won in 2015. All this success spanned out to sold-out comedy shows over 5 continents a few years ago. For which he now gladly plans a sequel!
Born in South Africa to a black South African mother and a white European father, Noah has hosted numerous television shows and released his first book in 2016. 'Born a Crime: Stories from a South African Childhood' was an instant New York Times bestseller and Noah was welcomed to the literary world with a wide array of rave reviews and awards. The collection of personal stories about growing up in South Africa during the last gasps of apartheid and the tumultuous days of freedom that came with its demise strike a universal chord with readers around the world. Earlier this year a film adaption was confirmed, which will feature Oscar-winner Lupita Nyong'o as Noah's mother.
Ticketsales start Wednesday the 14th of March at 09:00AM.
Prices: from €79,00 (for limited number of golden seats), €49,00 or €33,00 (incl. all fees)
For pressrequests or interviews: contact Azra at azra@livecomedy.be or 0476/420 121